About Us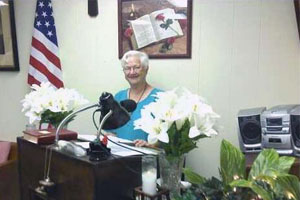 I am Rev. Margaret Ann Schmidt. I was born and raised in Cincinnati, Ohio and moved to Florida to enjoy the sunshine.
I received my first "psychic reading" for my 13th birthday, my dad took me to see Rev. Angela Apple in Hamilton, Ohio. She later became my teacher and mentor.
Spirit brought many other teachers into my life as I completed my spiritual and psychic development. In 1976, I received my certification for mediumship through the organization of the I.G.A.S. Ohio.
In 1977, I received my certification for healer as well as certificate of ordination for Reverend through the I.G.A.S.. Ohio, and moved to the Cassadaga Spiritualist Camp as a medium, healer, and teacher and Reverend.
Eventually, I became the pastor of the UCSS Spiritual Centre, a Christian Spiritualist church in Orange City where I still preside as pastor today.
Now I am a senior citizen. (where did the golden years go?) I give readings as I would like to receive one. I love church work and giving messages and healing to all who attend our services. I enjoy teaching healing, basic and advanced psychic and mediumship development.
I have an easy smile, I am a good listener, and I understand and live by "privacy". What a joy I find in helping people. I would love to help you!
Love & Blessings,
Rev. Margaret Ann Schmidt